Since the article was published, 9news.com.au has received a flood of emails from readers who have also fallen victim to similar scams – receiving often strange, unrelated items instead of what they actually purchased.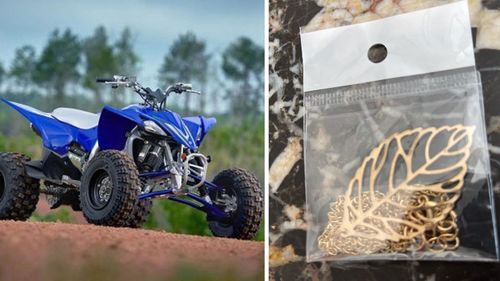 Sydney mum Daniela Coulstock couldn't resist snapping up a bargain when she saw an ad pop up on her Instagram feed for a quad bike.
The 4WD quad bike touted in the ad featured a 449cc fuel-injected engine and a lightweight aluminium chassis.
Keen to get a start on her Christmas shopping, Ms Coulstock bought the $150 bike for her kids.
"Everything was so cheap on that shop, so I also ended up buying a hanging outdoor chair for US$59 and a tool chest with tools for US$39," she said.
A month later, Ms Coulstock was puzzled to receive a small package in the mail from China.
"I opened it and inside was a cheap gold necklace with a gold leaf … I thought that's not what I ordered," she said.
A few days later, another tiny parcel arrived, this time it contain a necklace with a…